High Tides. The great show in 2018.
With many dates of high coefficients it's now or never to come see below our foreshore!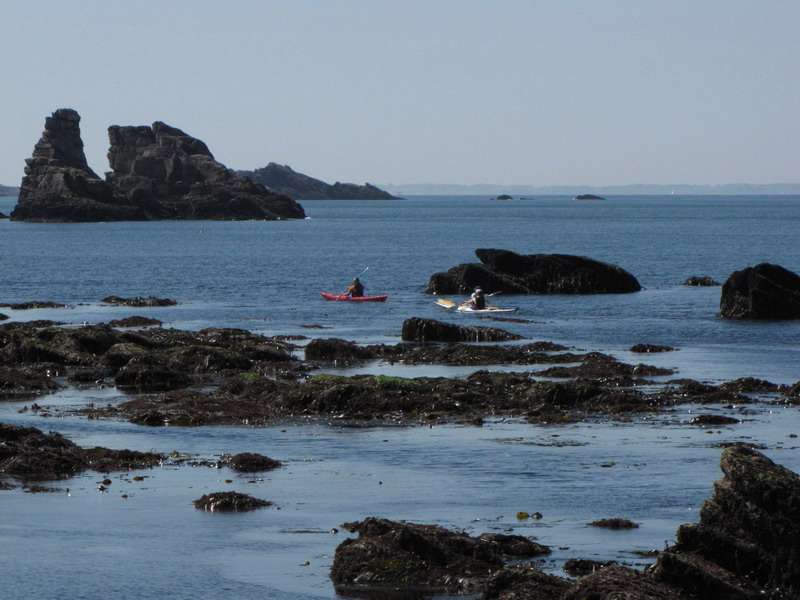 En effet, rien de plus facile que de se faufiler à marée basse entre les roches découvertes. Avec son tirant d'eau ridicule, le kayak glisse sans bruit sur les tapis de laminaires et au dessus d'un véritable aquarium géant.
Questions algues, vous ne serez pas déçu : des vertes, des rouges, des brunes, comestibles, avec un petit goût épicé, elles n'auront plus de secret pour vous et elles couvriront le sol de leur présence.
L'occasion pour vous de respirer à plein nez, un parfum d'iode vivifiant ou de voir en direct une étoile de mer imprudente se faire avaler par un goéland sans scrupules.
A marée haute, tout aura disparu. Mais si la houle et Dame Nature le veulent bien, direction les grottes et les petites criques cachées et inaccessibles à pied. Et tous les lieux interdits par le manque d'eau du matin seront alors à portée de pagaie.
Pour les amateurs, sortie spéciale pêche avec dégustation d'algues fraîches et/ou de fruits de mer suivant la chance…
Prévoir son crochet pour les crabes et ne pas oublier de réserver…